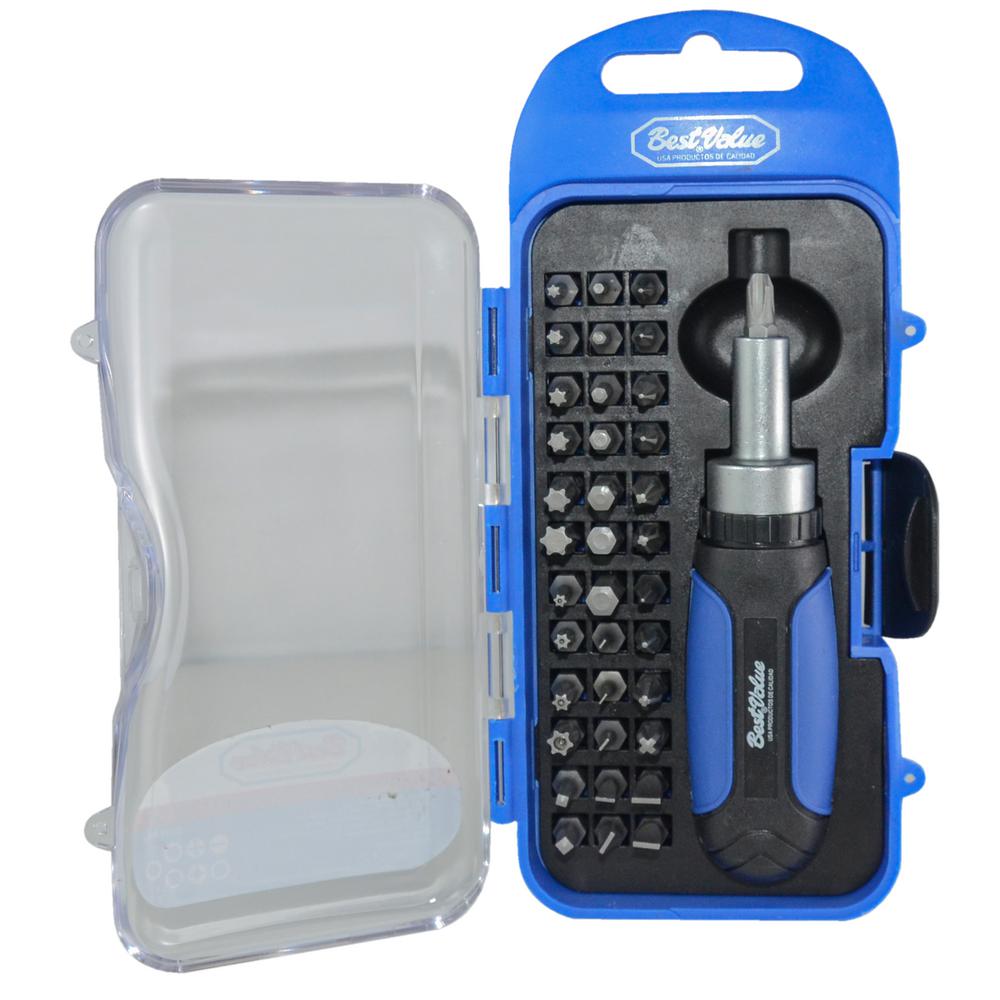 Best Value Screwdriver and Bit Tool Set (38-Piece)
Manufacturer: Best Value
Model #: H0183004
$16.75
In stock at Home Depot on 2-12-2018.
BUY NOW
Item Description
The Best Value 38-piece Ratchet Screwdriver and Bit Tool Set is the perfect tool set for the most important projects in your home, office or workshop. The great variety and assortment of bits models and sizes can be used in almost any job project. It has an ergonomic handle for great torque and comfort. The magnetic tip helps you hold the bits in place and makes the job easier. It comes in a heavy duty plastic carrying case, so you can store all the bits and carry them where you want. Made from Chrome Vanadium steel for outstanding durability and strength.
Product Features
Includes: 1-piece 1/4 in. dual-color ratchet handle
4-piece TORX with hole: T10 T15 T20 and T30
6-piece TORX:T10 T15 T20 T25 T30 and T40
7-piece hex key: 2.0, 2.5, 3.0, 4.0, 5.0, 5.5 and 6.0 mm
7-piece Phillips: PH0*2,PH1*2,PH2*2,PH3
7-piece slotted: 2.0, 2.5, 3.0, 4.0, 5.0, 5.5 and 6.0 mm.
4-piece pozi: Pz0,Pz1,Pz2,Pz3 and 2-piece square: S1,S2
Blue and black handles are easy to locate among other tools
Precision sandblasted tips for a better grip
Professional quality
Excellent grip and torque
---