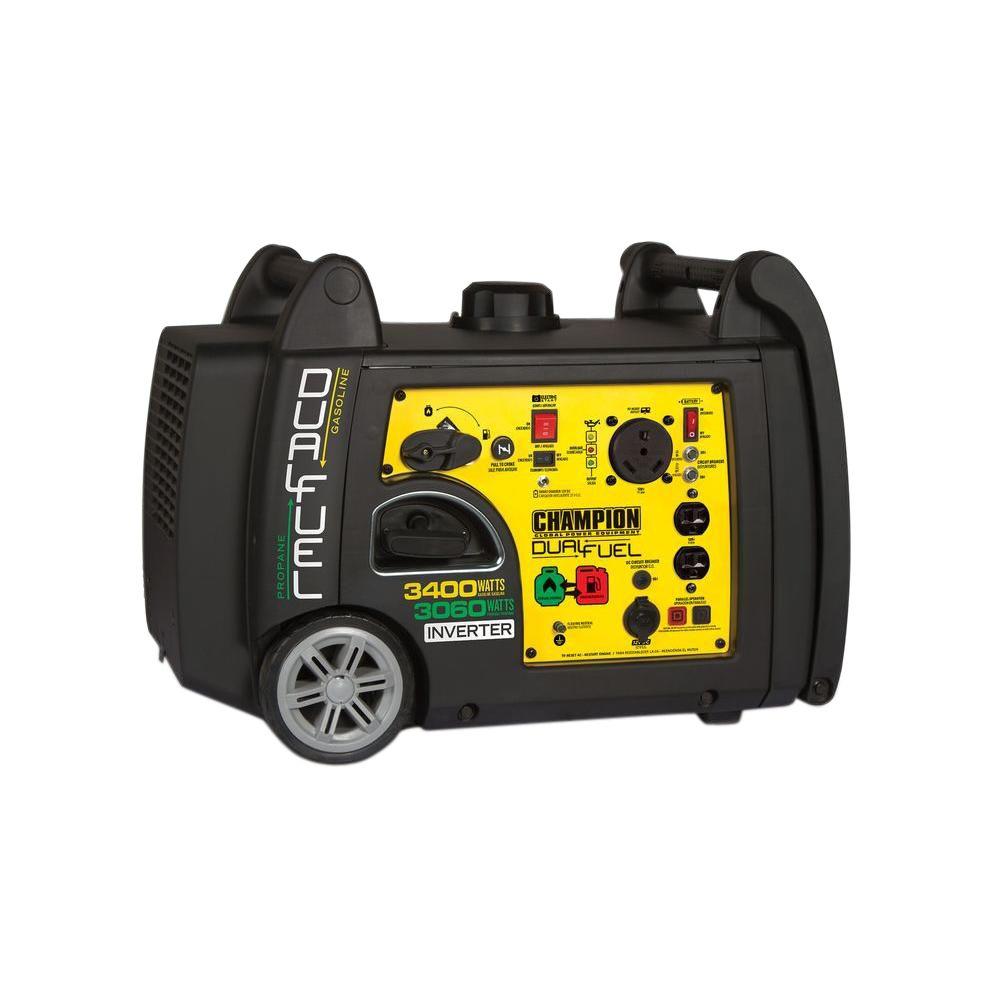 Champion Power Equipment 3,400-Watt Dual Fuel Push-Button Electric Start Portable Inverter Generator with Parallel...
Manufacturer: Champion Power Equipment
Model #: 100263
$999.00
In stock at Home Depot on 3-22-2018.
BUY NOW
Item Description
The Champion Power Equipment 100263 3400 Watt Portable Inverter Generator is the perfect combination of versatility and convenience whether you need power for your home, RV or project. The convenient electric start includes a battery, plus Cold Start Technology ensures a quick start in cold weather. Designed for safety with a low oil shut-off sensor, this inverter has a 0.6-quart oil capacity (10W-30). Operate your Dual-Fuel generator right out of the box on gasoline or propane. Using gasoline, the 192cc Champion engine produces 3400 starting Watt and 3100 running Watt, and will run for 7.5 hours at 25% load. It produces 3060 starting Watt and 2790 running Watt, and will run for 14.5 hours at 25% load when using a 20-pound propane tank. Included are a 120V 30A RV (TT-30R), two 120V 20A household outlets (5-20R), a 12V DC automotive-style outlet with dual USB adapter, plus a propane hose with a built-in regulator. Operates at 59 dBA from 23 ft. " about the same noise level as normal conversation. The optional Parallel Kit provides a quick clip-on connection which allows you to increase output by connecting up to two 2800 Watt or higher inverters. Also included is a standard 50-Amp RV outlet with power to start and run two 15,000 BTU RV air conditioners. Champion Support and our nationwide network of service centers will back up your purchase with a 3-year limited warranty and free lifetime technical support.
Product Features
Dual Fuel – Operate your 3400 Watt portable generator right out of the box on either gasoline or propane, plus the unit holds 0.6-quarts of oil (recommended 10W-30) and has a low oil shut-off sensor
Convenient Electric Start with 3-Position Ignition Switch – Battery included, plus Quick Touch Panel allows you to access all your controls in one spot
Ultra-Quiet Operation – 59 dBA is perfect for RVs, tailgating, your next project or backup power for your home, featuring 3400 starting Watt and 3100 running Watt with up to 7.5 hours run time on gasoline
Clean Power for Sensitive Electronics – RV Ready with a 120V 30A RV, plus two 120V 20A household outlets with clean electricity (less than 3% THD) and 12V DC outlet with dual USB adapter
Champion Support – Includes 3-year limited warranty with free lifetime technical support from dedicated experts
---