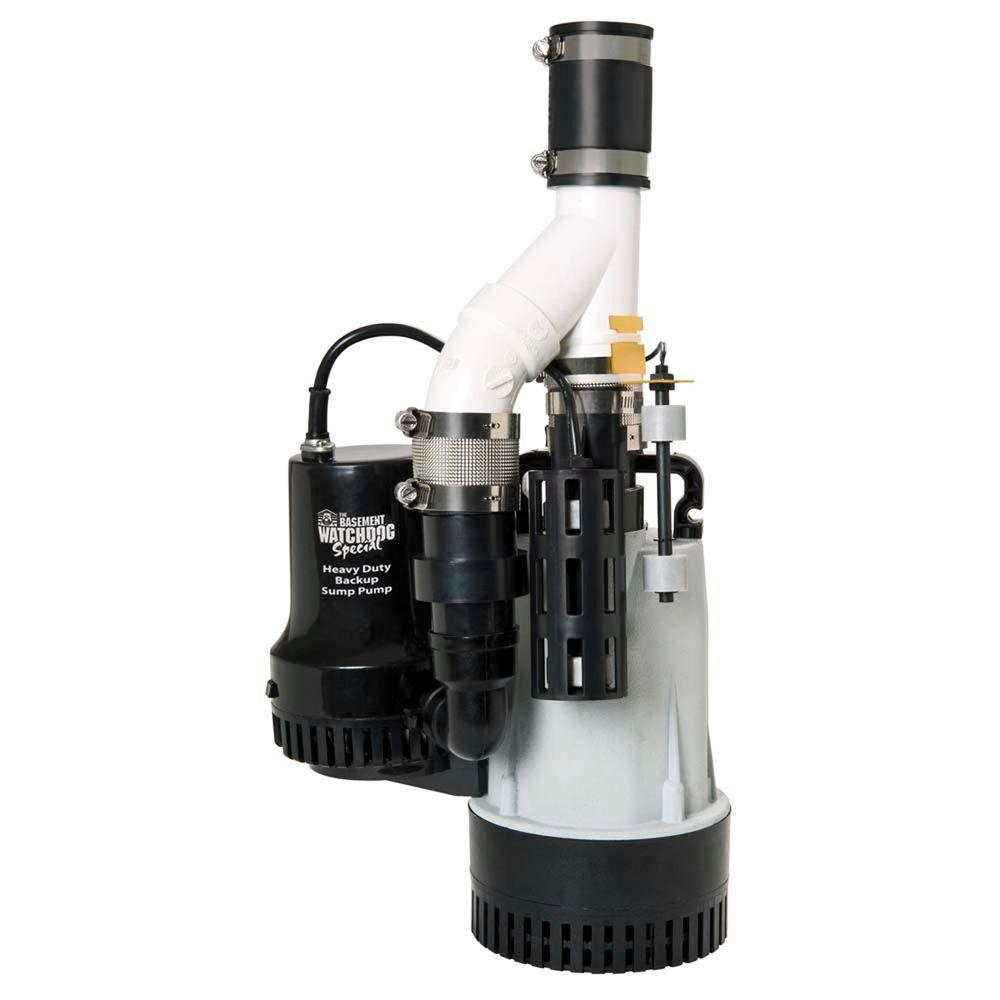 Basement Watchdog 1/2 HP Big Combination Unit with Special Backup Sump Pump System
Manufacturer: Basement Watchdog
Model #: BW4000
$398.00
In stock at Home Depot on 3-22-2018.
BUY NOW
Item Description
The upgraded Basement Watchdog Big Combo builds upon decades of reliability and adds even more features to protect your home from flooding. This Big Combo is a pre-assembled energy efficient ½ HP Cast Iron, Cast Aluminum primary pump combined with the Basement Watchdog Special Connect Battery Backup Sump Pump System. With two pumps in your sump pit, you will know your basement is protected. Easy to install with little or no plumbing knowledge required! With its weekly self-test of the pump, compatibility with maintenance-free AGM batteries, improved charging and monitoring and a remote terminal for easy connection to a security system, auto dialer or other similar device, you can feel safe that everything is working. Plus, a USB port that can connect to the Basement Watchdog WiFi module which allows you to receive text and email alerts¦ gives you the ultimate peace of mind while away from home.
Product Features
1/2 HP energy efficient permanent split capacitor (PSC) primary pump can save money on your electric bills
Primary pump capacity 3,540 GPH at a 10 ft. lift and 4,400 GPH at 0 ft. lift
Backup system capacity 1,850 GPH at 10 ft. lift and 2,500 GPH at 0 ft. lift
Includes a battery backup system with unique monitoring that sounds an alarm, illuminates a warning light and describes what to do for easy maintenance
Runs weekly pump cycles to check for proper pump operation and to exercise the pump
USB port and remote terminal allows for communication with the Watchdog WiFi or Home Automation Module, an auto dialer, home security system or other device, to alert you to problems or required maintenance – Giving you peace of mind while away from home
Dual float switches on both the primary and backup systems provide 4X the protection
Provides days of intermittent pumping power on a single battery charge
Fluid sensor monitors fluid level of the battery
Compatible with both wet cell and maintenance-free AGM batteries
Connect 2 batteries in parallel for double the run time
Automatic 1.6 Amp battery charger
Compact design fits in pits with diameters as small as 12 in.
Detailed instructions with over 90 pictures walk you through the simple installation process
Free lifetime technical support
Includes controller, 1.6 Amp charger, two dual float switches, primary pump, backup pump, remote terminal and instruction manual (battery not included – sold separately)
---