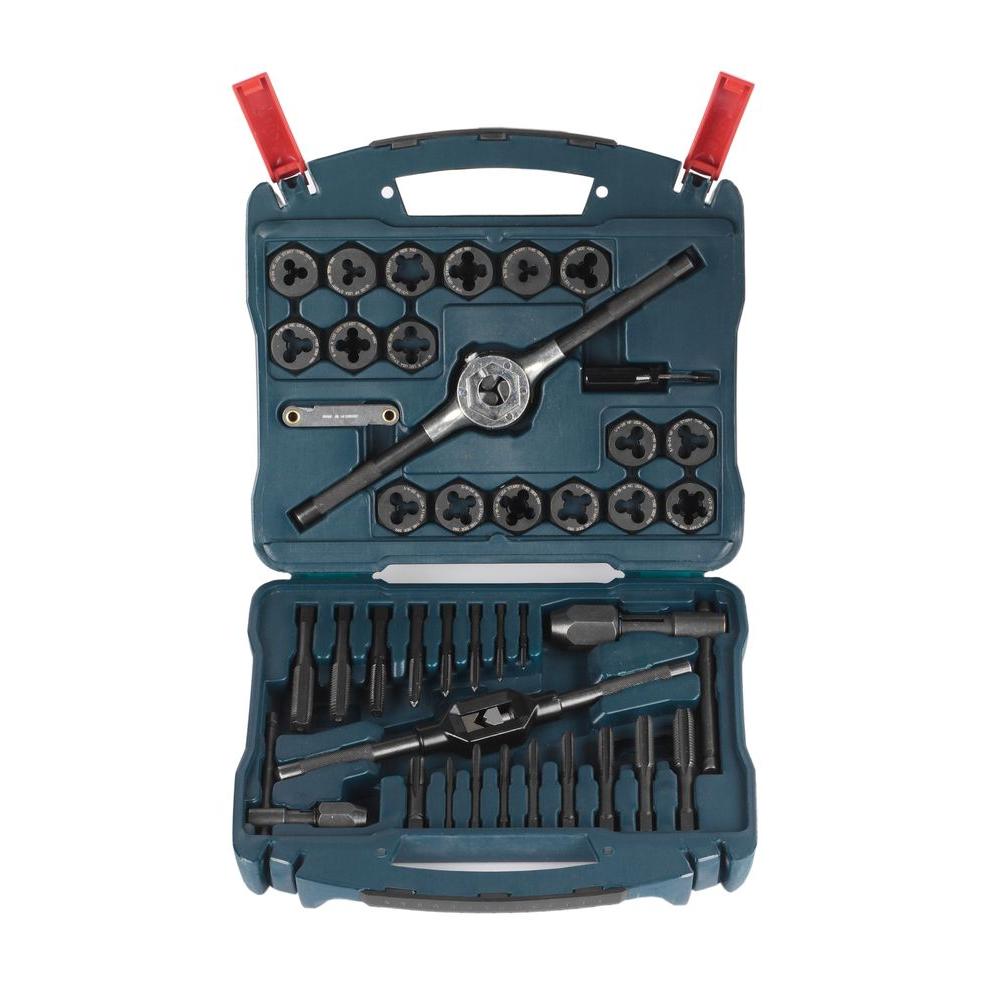 Bosch Black Oxide Tap and Die Set (40-Piece)
Manufacturer: Bosch
Model #: B44717
$128.03
In stock at Home Depot on 3-22-2018.
BUY NOW
Item Description
Bosch, the #1 power tool accessory company in the world, invests in research and development and we listen to our customers. This leads to innovation that provides and enhances performance on the jobsite. Better Accessories, Better Results. Bosch Taps and Dies are for use in aluminum, mild steel and stainless steel. Cut and renew internal threads to exacting specifications.
Product Features
Heat-treated carbon steel provides long life
Carbon steel provides clean, accurate threads
Includes handles and accessories: (1) #5 screwdriver, (1) screw pitch gauge, (1) 1 in. hex die stock, (1) T-handle wrench 0-1/4, (1) T-handle wrench 1/4-1/2, (1) tap wrench 1/4-1/2 in.
Includes taps: plug taps: (1) 4-40, (1) 6-32, (1) 8-32, (1) 10-24, (1) 10-32, (1) 12-24, (1) 1/4-20, (1) 1/4-28, (1) 5/16-18, (1) 5/16-24, (1) 3/8-16, (1) 3/8-24, (1) 7/16-14, (1) 7/16-20, (1) 1/2-13, (1) 1/2-20; pipe tap: (1) 1/8-27
Includes dies: 1 in. hex dies: (1) 4-40, (1) 6-32, (1) 8-32, (1) 10-24, (1) 10-32, (1) 12-24, (1) 1/4-20, (1) 1/4-28, (1) 5/16-18, (1) 5/16-24, (1) 3/8-16, (1) 3/8-24, (1) 7/16-14, (1) 7/16-20, (1) 1/2-13, (1) 1/2-20; pipe die: (1) 1 in. 1/8-27
---