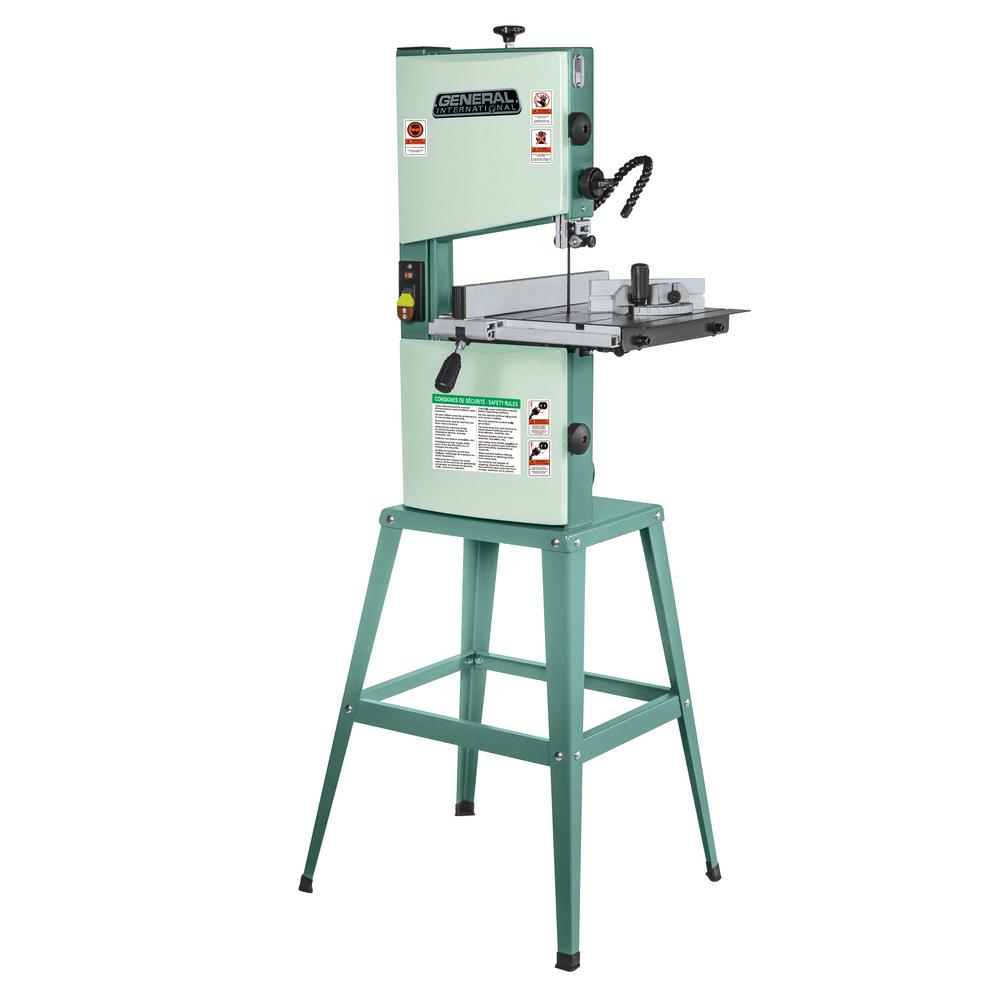 General International 3.4 Amp 10 inch Woodcutting Band Saw
Manufacturer: General International
Model #: 90-030 M1
$308.17
In stock at Home Depot on 3-22-2018.
BUY NOW
Item Description
The General International 90-030 M1 120-Volt 10 in. band saw is equipped with a powerful 3.4 Amp motor to rip through hardwoods. Band-sawing produces uniform cutting action as a result of an evenly distributed tooth load. The large 13-3/8 in. x 13-1/8 in. work table can accommodate most jobs with a large cutting capacity of 4-1/16 in. for cutting irregular shapes and ripping lumber into thinner pieces, novice woodworkers will find the General 90-030 M1 10 in. Band Saw with flexible LED work light is essential for your workshop. You'll cut through a variety of wood materials with the quick release blade tension that changes blades quickly. Make quick angle and height changes with the rack and pinion adjustable table. EZ View Blade Tracking lets you easily align the blade. Other features include a rip fence for straight cuts and a miter gauge for cross cuts. The dust port keeps your work area dust-free, while the LED work light adjusts so that you can see exactly what you're doing. Includes 2-year limited warranty.
Product Features
Smooth running durable 1/3 HP motor, sturdy welded steel frame and precision balanced wheels with replaceable tires, safety lock-out switch with removable key to prevent unauthorized use
Easy-to-assemble open-based steel stand, precision blade guide bearings included, miter gauge with auxiliary aluminum crosscut fence included
Hinged doors and quick release blade tension knob for fast blade changes, large stable cast-iron table with slide-out steel extension wing
Includes goose-neck style work light, convenient blade tracking window, sturdy welded steel frame and precision balanced wheels with replaceable tires
Wheel size: 10 in., wheel speed: 1134 RPM, blade speed: 2920 lin. Fpm, blade width: 1/8 in. - 1/2 in., blade length: 67-1/2 in.
Table size: 13-3/8 in. x 13-1/8 in., table tilt: 0° to 45° (right), table height: 42 in., motor M1: 1/3 HP, 120-Volt, 1 phase, 3.4 Amp, 370-Watt, 60 Hz
Maximum width of cut: 9-5/8 in., maximum depth of cut: 4-1/16 in., dust port diameter: 4 in., 3 in., or 2 in. hose, throat: 9-3/5 in.
Base dimensions: (L x W) 15-1/2 in. x 12-1/2 in., 80 lbs.
2-year limited warranty
---