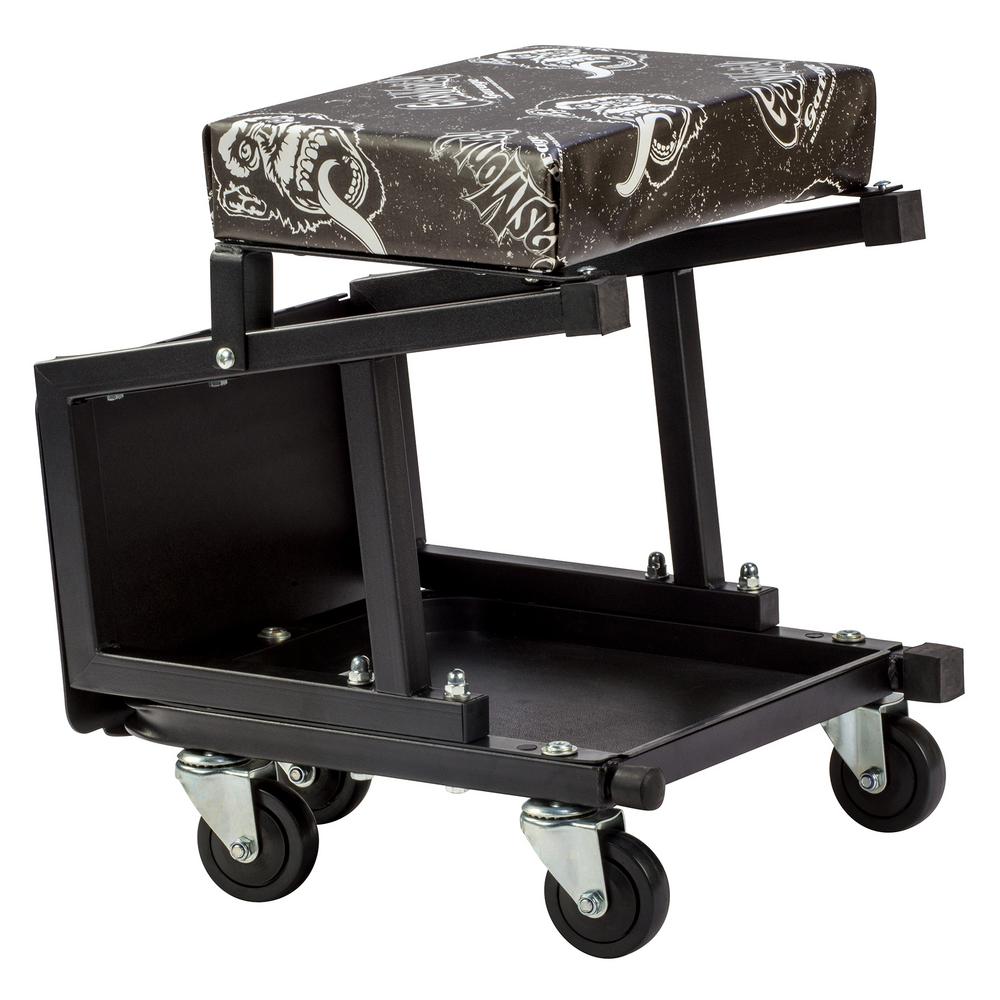 Gas Monkey Mechanic Creeper Seat and Stool Combo - 5 Rolling casters with 300 lbs. Capacity for Auto Car Garage
Manufacturer: Gas Monkey
Model #: GMG91305
$79.52
In stock at Home Depot on 3-22-2018.
BUY NOW
Item Description
Gas Monkey GMG91305 Creeper Seat and Stool is the combination of creeper seat and step tool with 300 lbs. Capacity. It is a great addition to any garage. The versatility of this creeper creates a range of access from down low on the creeper seat to above standing on the step stool . The seat size of 14 x 9-1/2 with the thick vinyl padding gives you the extra comfort. At the same time, the step stool with the step size of 14 x 9 provides you with the extra safety when standing on the step stool.Gas Monkey Seat and Stool Combo features 5 swivel casters to provide the easy maneuverability. In addition, there is a built - in tool tray to provide you with the convenience and a tidy workspace.Gas Monkey GMG91305 will help to consolidate your work area being able to keep your tools on you with the added tool tray and helps keep your workspace tidy.- 350 lbs. Weight Capacity - 5 Swivel Casters for easy Maneuverability - Combo of Creeper Seat and Step Stool - Thick Vinyl Padding for ConvenienceSpecifications- Capacity: 350 lbs. (Seat)- Capacity: 400 lbs. (Stool)- Seat Size: 14 x 9-1/2 - Step Size: 14 x 9 - Item Weight: 21 lbs.
Product Features
2-in-1 seat and stool: patent pending rolling seat with built in stool, reinforced steel frame construction with the seat capacity of 350 lbs. and the stool capacity of 400 lbs.
Tool tray: including tool tray with adjustable fourth leg for stability
Padded seat: padded seat for comfort while seated
Tread plate: steel tread plate for added grip while standing
FIVE Rolling casters: 5 2 in. 360° rotating, smooth-Rolling casters for easy operation
---