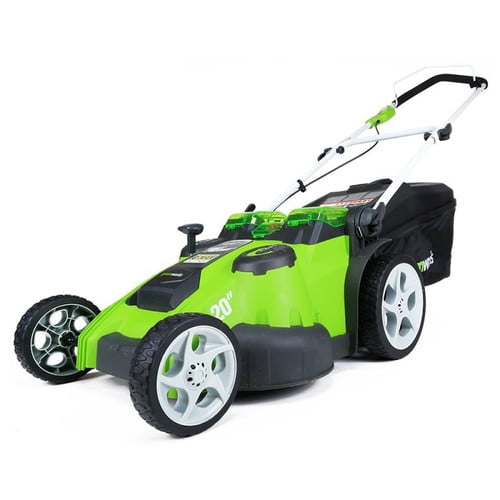 Greenworks 25302 40V G-MAX Cordless Lithium-Ion 20 in. 2-in-1 Twin Force Lawn Mower
Manufacturer: Sunrise Global Marketing
Model #: 0084182101000
$315
In stock at Walmart - Click More Info / Buy Now to check for price rollbacks! on 10-3-2018.
BUY NOW
Item Description
Become more efficient when working in your yard with the Greenworks 40V G-Max Lithium-Ion Lawn Tool Series, the gas alternative solution you have been waiting on. This interchangeable battery platform offers all the tools you need to complete your yard work without sacrificing performance or power. Greenworks 40V G-Max Twin Force Lawn Mower delivers all the power you need to get your yard looking pristine without the hassle of spilling gas or extension cords. The simple electric start makes this easy-to-use, avoid those hard to manage pull gas cords and take that step towards a Zero Carbon Footprint in the yard. This 2-in-1 mower features several high performance features including tool-less conversion from bagging to mulching to make your job faster, and is designed with the new Twin Force dual blade cutting action for enhanced cutting performance. The 5-position cutting height adjustment allows you to switch between a range of 7/8 in. to 2-3/4 in, guaranteeing a nice even cut for all grass types. Greenworks ergonomic design offers a variety of user comfort features from easy adjustable handle, overmolded grip, 7 in. rear wheels and 6 in. front wheels for better control and easy fold down handles for convenient storage. Quiet and easy to use, this mower provides the reliable performance and dependability you need to get your yard work done quickly and efficiently. Features 2-in-1 mowing capabilities - rear collection and mulching 20 in. wide cutting path offers a great balance of maneuverability and cutting capacity for mid sized areas Powerful 40V motor provides tough cutting and mulching power Durable ABS polymer cutting deck offers increased control and lightweight transport Adjustable cutting height ranging from 1.125 in. to 3.375 in. Twin Force dual blade action provides enhanced cutting performance Ideal for mid-sized yards and lawns Note: 40V G-MAX and 40V Lithium-Ion Batteries are not cross compatible Includes 40V G-Max Cordless Lithium-Ion 20 in. 2-in-1 Twin Force Lawn Mower - 25302 (2) 40V (2Ah and 4Ah) Lithium-Ion Batteries Charger Owner's Manual Specifications Series: G-MAX Cordless: Yes Weight: 42.5 lbs. Amperage: Bag Capacity: Batteries Included: 2 Battery Amp Hours: Battery Type: Li-Ion Battery Voltage: Cutting Deck Material: Cutting Height (Max.): 3-5/8 in. Cutting Height (Min.): 1-5/8 in. Cutting Height Settings: 5 Cutting Path: 20 in. Deck Material: ABS Polymer Deck Size: Discharge Settings: Rear Drive System: Manual Engine Displacement: Engine Type: Horsepower: Max. Incline: Mulch Ratio: Mulching Capability: Yes No. of Blades: Power Type: RPM: Recharge Time (Full Capacity): 3 hrs. Shipping Weight: Starter: Voltage: 40V Wheel Size (Front): 8 in. Wheel Size (Rear): 10 in.
Buyer Reviews
I was hopeful this product would work. It is not a bad product unfortunately it just does not have the needed power to cut a yard. I have had this product now about 3 months and keep trying to use it but it causes me to have to cut a small yard twice. My yard is about only 1700 sq ft with zozia grass. I mowed the yard today one week after previous mowing and the mower chokes down much of the cut. When it goes into high speed it does ok but still not great. It will miss cut grass right down the middle of the mower. It creates swirl marks etc. many places you have to cut twice. Also it does not have the power to bag the clippings. On the smallest of hills it can not fill a bag to even 33% before having clippings not picked up. With only a 1700 sg ft yard it took 4 times emptying the bag and fully depleted one battery and second battery had one battery light left. That is with only one pass and needs to be cut a second time. Mower deck is set at 3 rd cut height. I had high hopes this would work on such a small yard and tried several times to make it work. But I will be forced to return to the gas powered mower, unfortunate. I also have weed eater, hedge trimmer and blower. Hedge trimmers work great. Weed eater is ok. Blower is underpowered with 150. Weight of all products is good. I tried to add photos but said file too large.
Product Features
Greenworks 25302. Features: 2-in-1 mowing capabilities - rear collection and mulching. 20 in. wide cutting path offers a great balance of maneuverability and cutting capacity for mid sized areas. Powerful 40V motor provides tough cutting and mulching power.
---