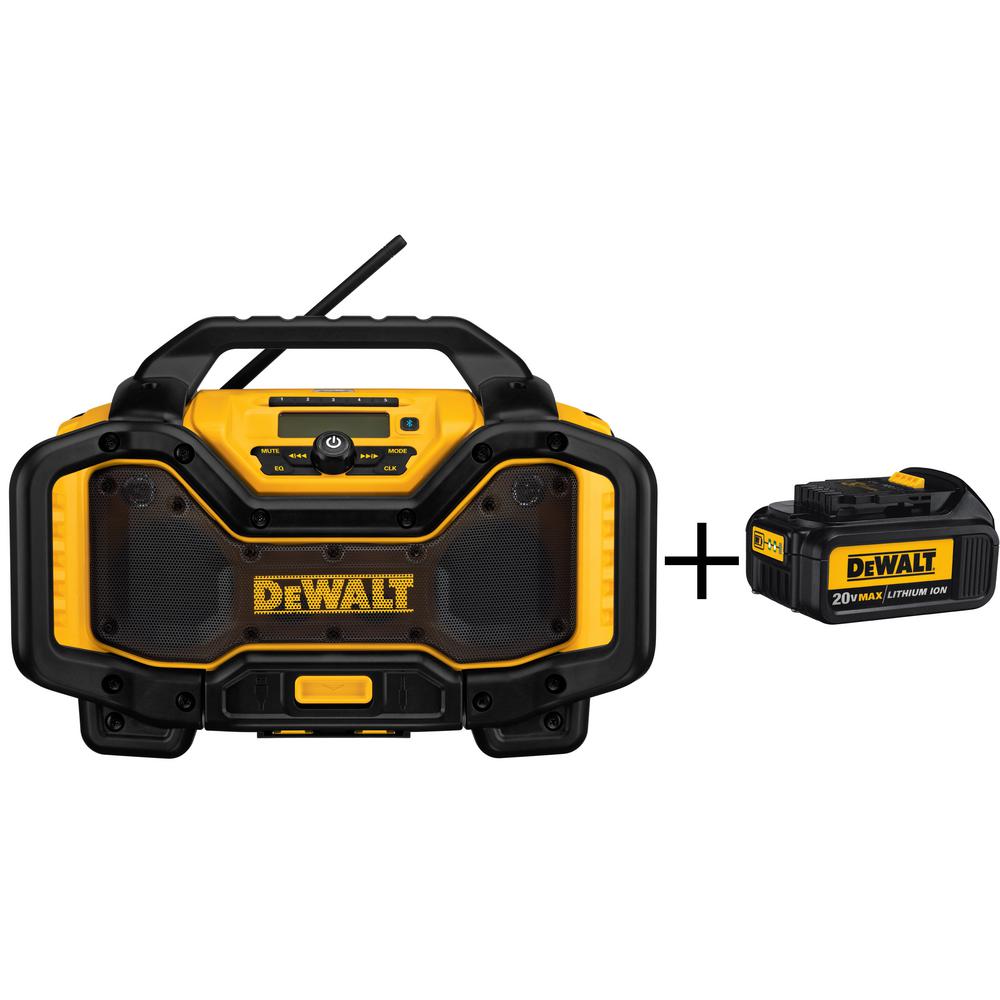 Dewalt 20-Volt or 60-Volt Lithium-Ion Battery Charger and Bluetooth Radio with 3Ahr Battery Pack
Manufacturer: DEWALT
Model #: DCR025wb
$298.00
In stock at Home Depot on 2-28-2018.
BUY NOW
Item Description
The DCR025 is designed to be the most versatile Jobsite Radio Charger on the market. The unit is able to run off and charge all DEWALT slide pack battery packs including 20-Volt and FLEXVOLT packs at 3 Amp when plugged into an AC outlet. The unit is designed to include woofers, tweeters and air ports to provide clear and rich sound at all volume levels. An oversized device storage box protects devices from worksite conditions and includes an Aux and 2.1 Amp USB charging port for convenient device charging. 2 AC Power outlets on the side of the unit allow you to plug in additional tools or chargers without occupying additional outlets on the wall. AVRCP (Audio Visual Remote Control Protocol) allows you to control your device from the radio interface so you can keep the device in a safe place and skip to the next song or hit replay on the radio interface. For a limited time get a bonus 3Ahr battery pack with purchase.
Product Features
Able to be powered by 20-Volt/ 60-Volt DEWALT batteries as well as AC power cord
3 Amp charging of 20-Volt/60-Volt DEWALT batteries when unit is plugged into AC power
Bluetooth connectivity up to 100 ft.
2 additional AC power outlets
NFC wireless connectivity
AVRCP (Audio Visual Remote Control Protocol) allows you to control your device from the radio interface
Allows you to keep the device in a safe place and skip to the next song or hit replay on the radio interface
DCB200 - 3Ah extended run time battery for longer run time and longer battery life
DCB200 - No memory and virtually no self-discharge for maximum productivity and less downtime
DCB200 - Weighs 1.42 lbs. allowing user maximum run time and less job fatigue
---