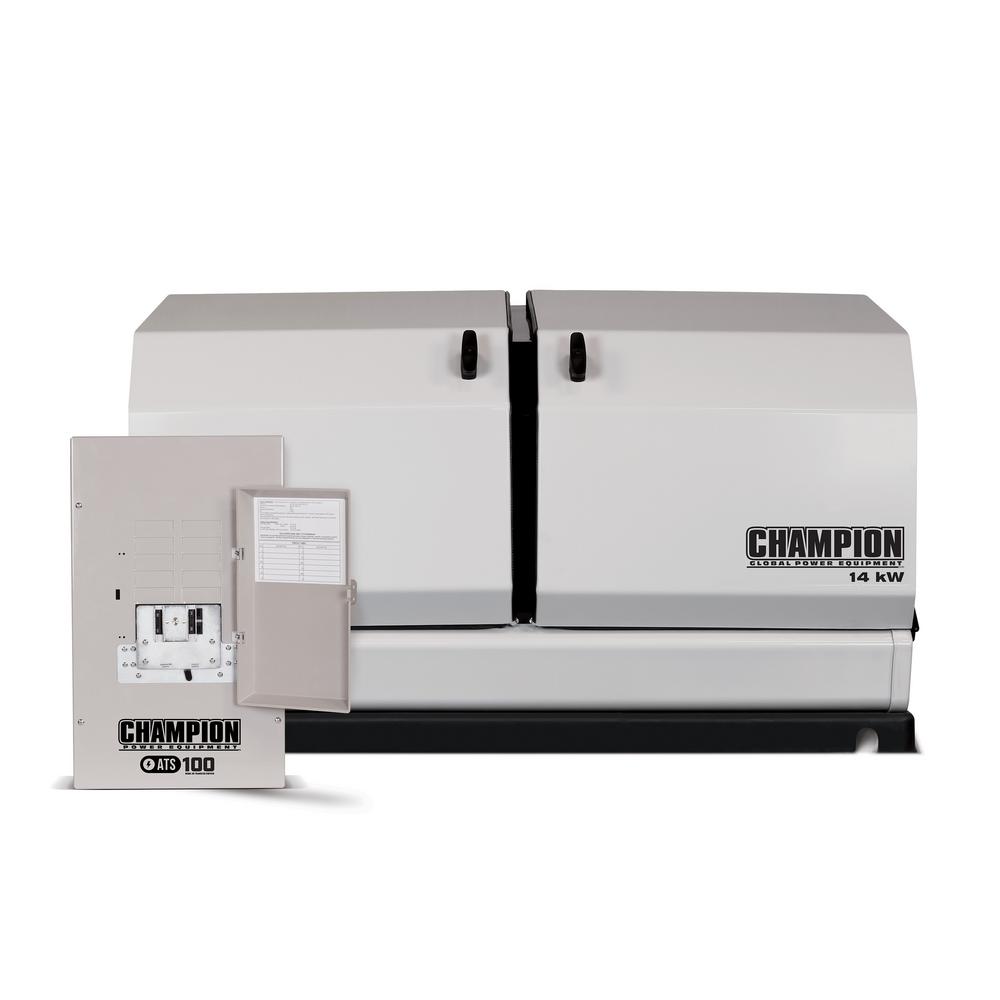 Champion Power Equipment 14,000-Watt Air Cooled Home Standby Generator with 99 Amp Indoor Rated Automatic Transfer...
Manufacturer: Champion Power Equipment
Model #: 100295
$3,437.67
In stock at Home Depot on 3-12-2018.
BUY NOW
Item Description
The Champion Power Equipment 100295 14-kW Home Standby Generator with an ATS100 Indoor-Rated Automatic Transfer Switch is The Simple Solution to a power outage. The generator starts automatically when the power goes out and returns to standby when power is restored. The 24-volt starting system operates in temperatures ranging from -22° F to 104° F with no warming kit necessary. Youll have the starting power you need during an emergency since the onboard battery charger maintains the charge at all times, plus, since the generator is connected to your propane or natural gas system, it never needs refueling. The ATS100 automatic transfer switch operates a 100 amp, 12 circuit load. It is housed in a NEMA 1 rated enclosure for indoor use. Our innovative gull-wing design provides easy access to the engine and control panel and allows a full view of the onboard control system. The Champion 754cc OHV engine provides 14-kiloWatt of continuous power on propane and 12.5-kiloWatt on natural gas. This 14-kW-rated unit produces 58.3 amps at 240 volts on propane and 52.1 amps at 240 volts on natural gas. The alternator produces less than 5% total harmonic distortion (THD) to ensure safe use with even the most sensitive electronics. Champion Support and our nationwide network of service centers will back your purchase up with a 10-year limited warranty and free lifetime technical support.
Product Features
Totally Automatic – The ATS100 Emergency Essentials Automatic Transfer Switch has 12 available circuits and provides seamless power to your home during an outage
Quietest-in-Class – Thanks to advanced sound dampening and a specially designed low-tone muffler, this generator operates at a residential-friendly 63.5 dBA noise level
Reliable – 24-volt starting system operates in sub-zero or extreme heat (between -22° F and 104° F) with no warming kit necessary, plus the generator performs weekly self-diagnostic tests
Powerful – The 14-kilowatt generator provides 14,000 Watt of continuous power on propane and 12,500 Watt on natural gas, with no refueling, no manual operation and no extension cords needed
Champion Support – Includes 10-year limited warranty with free lifetime technical support from dedicated experts
---